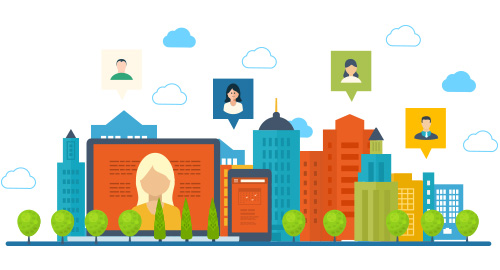 Strategic Media Buying
We Understand That Your Business is Incredibly Important to You.
You've nurtured it from a seedling, putting time, money, sweat, hope, tears, sleepless nights and your driving vision into it. When we work with your media investment, we treat it as conscientiously as if it were our own. Our business is supporting your business- it's as simple as that. This means spending every dollar with care and data-driven deliberation, respecting all the hard work that was put in to earn it. We exist to increase media ROI. When you succeed, we do too. We're proud of each opportunity we've had to help businesses grow without breaking the bank.
"Media buying" can be a rather loaded term, since it encompasses so much these days. A well-rounded media strategy is built from a rigorous, disciplined process and can include any paid media vehicle from TV commercials, print ads, sponsored social media posts, radio, and much more. So, how do you even begin to find a strategy that works for you, without the expensive learning curve so many companies go through by being inundated with costly and ineffective choices?
Never fear! This is where a media buying agency such as our team at Blue Onion comes in. With our collective experience and vast network of resources, we've already gained (and constantly update) the experience and insight needed to navigate the media world, to help you make choices that meet your budgeting needs. We stay current on today's top trends, know how to anticipate your audience's future interests, and how to reach them. We seriously geek out on this stuff.
Some of the areas we love to powerfully play in include:
Traditional
Television
Cable
Radio
Magazine
Newspapers
Out-of-home
Direct mail
Digital
Programmatic
Display
Streaming Audio
Streaming Video
Social
Video
Mobile
Paid search
Change happens very quickly when you're a media expert. We understand the vital importance of staying on top of emerging trends, and knowing how to anticipate and make the most of what's going to come next. We invest hundreds of thousands of dollars each year to maintain the very best industry data, research, and technology available for every category of media. We are committed to giving you every advantage for your media investment!
Our Blue Onion Media team customizes your media buying guidelines to suit your unique needs. We pride ourselves on engaging your strategic media placement plan efficiently and effectively.
Our costs per points consistently fall below LOW SQAD, the industry standard, meaning your media buying dollars go much further.
We buy with proven quality to reach your potential customers. We choose specific and strategic media vehicles to accomplish your goals, versus flooding the market with lots of cheap spots.
We pair qualitative demo information with ratings data to select objective-appropriate stations, programs, and print vehicles. It's all about putting your company's ads in the right place at the right time.
We monitor your budget closely to make sure we stay on track, so that you can have a worry-free experience!
We negotiate and coordinate all promotions as part of the annual schedule.
Our negotiations process and media placement strategies are proven and thorough. Here's a peek at some of the things we do to ensure a smooth, successful campaign:
We communicate demographic and geographic data, flight dates, and campaign goals to the media supplier.
We state our expectations of the buy—including restrictions—and methods for tracking and measuring.
We analyze audience impressions versus media costs.
We negotiate with the vendor on your behalf.
We book schedules and get vendor signatures as a verification of receipt of order.
We secure weekly metrics to ensure the schedule runs smoothly and achieves the correct impressions or rating points.
We audit invoices for accuracy once the flight is complete, ensuring every penny was spent properly.
Maximize your advertising and marketing dollars and gain greater understanding and insights into what makes your customers tick. Unleash the power of media to grow your business by partnering with Blue Onion Media! You'll have a great time discovering new possibilities and engaging new consumers who have been looking for what you have to offer.
Give us a call today and get ready to enjoy having the advantages of an industry insider, without the expensive learning curve. You'll be glad you did! (303) 597-9661