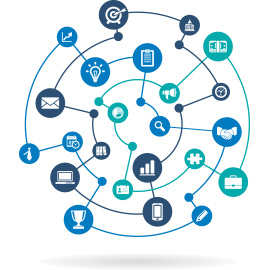 Strategic Media Planning
We Navigate the Evolving Media Landscape for You
There are more options for media advertising than ever before, offering an ever-expanding range of possibilities. How nice would it be if we all had an ever-expanding budget to explore all of them? Some agencies offering media planning services sure seem to spend your dollars as if you did! With the plethora of choices available, many people find themselves scratching their heads, trying to navigate the process of creating impactful, ROI-driven campaigns that don't break the bank.
You Need an Agency that Will Spend Your Money like it's their Own
Until you invest in strategic media planning with an agency that knows its stuff and focuses on your specific needs, options can often feel as if they're hanging like dead weight, clogging your clarity with the sheer barrage of choices. Media planning needs to be smart in order to be effective. We understand how your strategies need to strike that sweet balance between affordable costs and high returns, in order to be worth your time.
What makes it worth your time and financial investment? It's all about getting your product or service in the limelight – in front of the right faces, in the right places, at the right time, while doing it all for the right price. Many people settle for less, concerned about the potential drain on their hard-earned finances and worried that they won't see results soon enough to make the expense sustainable. We're here to show you a better way- you CAN have your cake and eat it too!
We Invest for Your Success
We are committed to taking the pain and financial burden out of the equation for you, so that you can focus on building your business without the headaches. We spend hundreds of thousands of dollars each year (so that you don't have to!) to maintain the very best industry data, research, and technology available. This gives us a rich pool of resources to delve into together, to bring you every advantage. Some of our fantastic resources include:
Nielsen TV Ratings – Nielsen delivers a constant, real-time stream of information, revealing tuning behavior during programs and commercials. We can tell clients which commercials are being watched, as well as which ones have the strongest engagement and impact. We analyze which position in the program or commercial block is most effective for a specific brand and which markets will create the best return on investment for brands.
Nielsen Audio Ratings – Known as the definitive source for comprehensive radio metrics and insights, Nielsen Audio has the beat on this dynamic and evolving industry. Radio today is about more than what's playing and being heard. It's about industry buzz words like audience reach, effective radio buys, multi-platform utilization and audience value—terms that we speak fluently.
Strata – Strata has their finger on the pulse of media advertising, with tools for planning, buying, stewardship, optimization and billing across all forms of media, including TV, cable, radio, print, digital and outdoor.
Kantar Media – Kantar measures data on news coverage so that we have a deeper insight on conversations and sentiment across the media.
Much more! (You didn't expect us to give away all our secrets here, did you?)
Anything worth doing is worth doing well. A haphazard approach to media buying can be disastrous to your finances and the impression you leave with your audience. The whole point of you embarking on this venture is to build up your business and boost your profitability in the long term, not to hemorrhage funds for a stressful ad campaign that costs more than it offers in return.
The System of Your Success
We begin with a thorough assessment of your target audience, looking to primary and secondary research to fully understand your business' universe.
From there, we recommend the most effective ways to invest your advertising dollars to achieve your goals.
We provide annual flowcharts detailing the chosen media mix, including Target Rating Points by week and Reach & Frequency for your selected budget levels.
We undergo a proven and results-oriented process to customize media plans for you and your specific objectives:
Identify campaign objectives
Establish measurements of success
Define target audience
Analyze the competition
Evaluate media options for cost and effectiveness in achieving your objective
Build a media plan that identifies peak sales times, seasonality, and geography
Our strategic plans go the extra mile, all with the comfort of knowing you've got a team of dedicated, forward-thinking media professionals at your side. Rely on us to point you in the best direction and achieve results above and beyond your expectations!
At Blue Onion Media, we are dedicated to being the media planner guide on your side! We are your allies, making sure your campaigns are cutting-edge, eye-catching and relevant to your audience, while getting you the maximum value for your budget.
Call us today to see what we can do to bring your business in front of the people who are waiting to discover you! We're sure you'll love it, and your future customers will too! (303) 597-9661