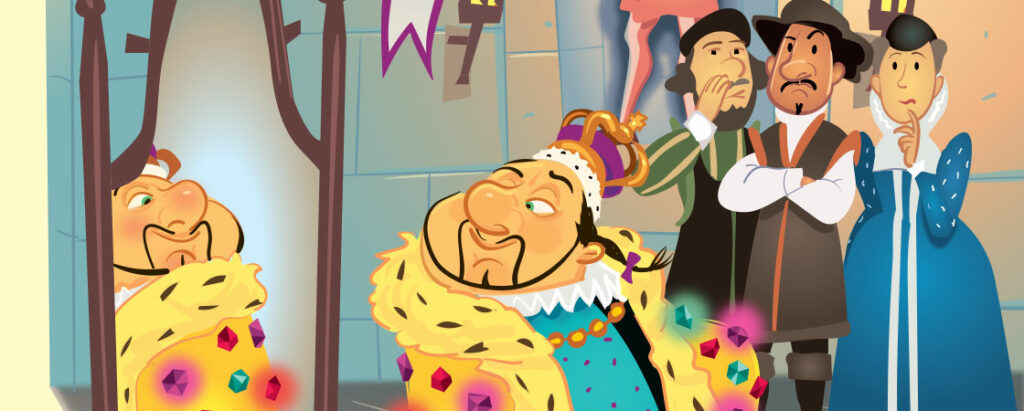 By Joel Grabois, CEO, Blue Onion Media (first published by Galvanize Worldwide)
Everyone knows the folk tale "The Emperor's New Clothes," in which the all-powerful leader is, in fact, buck naked – but no one is bold enough to call him out on it, except an innocent child. I believe that the marketing industry, like the emperor, is under-dressed, and it needs an epiphany to move forward.
In my view, we all need to snap out of our shared misconception that the marketing person knows it all and has a finger on the pulse of every component of the industry. This assumption is decades old and no longer holds true. The space has become so specialized and tech-driven that no one person should be expected to understand it all. Leaders need to be honest and transparent about this; I should not expect you to know all the components, and you shouldn't expect me to know it either. To pretend we do is, in a sense, to walk around naked. Sooner or later, we will be called out.
In my opinion, there are four trends in the industry that pose problems – and create opportunities:
Technological disruption
The "race to the bottom"
Talent pipeline issues
Talent constraints
1. Technological disruption.
Technology, in all areas of media, is really pushing and pulling on us more. It changes how media is transacted. Merger and acquisition activity is also an issue. We are now so target-driven, it's a big deal when a vendor buys another vendor, and suddenly you can't zip code target anymore without the new minimum investment requirement from the parent company.
Technologies such as cookies and iOS developments will impact traffic and attribution. In my humble opinion, attribution is marketing meth – and just about as healthy. This is changing though, and I wonder how marketers will adapt. We have become so addicted to it. What happens next?
What should happen involves setting investment strategies. This could and should be a marketing renaissance that combines advertising and viewer control, decreased consumer price, advertising relevance and impact, plus intrusiveness—in a good way (viewer attention). Modern media can be highly impactful, like a more-targeted primetime spot but where more people stay tuned to the ads. And prime time is any time now. That's a big trend.
2. The "race to the bottom."
When it comes to digital technology and media tactics in general, the tail is wagging the dog. It's unfortunate but it's happening.
The new generation of media planners and buyers is geared to tactics because of specialization and the demand for platform expertise. We train against this at Blue Onion Media. I believe we are at a potential inflection point where a large number of marketers realize that the digital revolution hasn't yielded a sustainable, repeatable, scalable, or long-term ROI. This could be the trigger for an emperor's epiphany.
The current focus on short-term growth is driving a tactical approach that belies long-term brand growth, and it belies ultimate profitability and equity of brands. What happens when we reach this inflection point? There's a big opportunity there to come.
3. Talent pipeline issues.
There is a huge gap in the way we educate our talent pipeline. The time available to train the workforce is lagging the complexity of technological development. This is a widening and growing gap, and we are feeling the pain of that. It creates both threats and opportunities for agencies and freelancers.
On the threat side, this is creating discord between marketers and clients. There is a real struggle to understand differences between correlation, attribution, causation, and growth, which is causing attribution to lose its power. Marketing executives think that we are all, frankly, hiding behind our acronyms and our jargon. This causes frustration and conflict. Clients come to me with specific knowledge about a certain component, and if I can't speak to that on the fly, they start to wonder if I know as much as they do. At the same time, there is so much more knowledge needed, which requires more people and more specialization, all coalescing into kind of a mess. We must reel that in to be successful.
It has gotten to the point that the industry is looking for people who can do it all – which is now impossible. I have an idea for a blog that features hilarious marketing job postings that are looking for unicorn people that have never existed and never will.
On the other hand, this opens up an opportunity for greater differentiation of agency performance and ingenuity and an opportunity for candor that actually supports clients' long-term growth. Imagine if all these numbers/data led to an additional sale and how great that would be – an opportunity for brand growth, building brand equity, and value versus meeting short-term goals.
4. Talent constraints.
I call this the "battle of home versus office." The "great resignation" we have seen created by the pandemic, along with the increased need for specialization, has the potential to increase agency costs while pushing down agency revenues.
Given all these issues, how does an agency or a freelancer add value? By laddering up our accountability. Not in the sense of showing metrics but in being a partner in the growth of the client's business: How can we drive an overarching strategy, find what components of the media plan actually matter? We can move from data and sharing of information to, on our best days, actionable insight.
To that end, every platform needs to be interrogated. Whether it's traditional, social, or other media platforms, every tactic has components where blind spots exist. We need to ask, with any investment, is there a strategy behind it? In addition, the end goal needs to be refined. Sales metrics should be brought more into the media space. Long-term metrics are the unsung hero.
At the end of the day, all of this requires a new sense of candor and responsibility. I have seen more and more that the more candid I am, the more I admit that this is a challenging environment and that we need to dig down and examine some of these things, the better the results. That's my greatest advice.

That's my epiphany.